Location and Logistics Big Words in Sri Lanka: What Have We Tangibly Achieved for Decades?
29 November 2022

Views: 30
Logistics is a vertical that should have contributed 8%-10% of GDP
Many pillars that need to be successful as a hub completely missing in national agenda of Sri Lanka
Stands 91 in the global logistics performance index with low business rankings
Protectionism over openness with policy reform inconsistency and lack of institutional framework, monopolies are the obstacles
CIMC events to bring in the discussion in November 2022
---
Look around
Has anyone noticed when driving from the airport to the financial city of Colombo seeing any global shipping or logistics companies' headquarters or neon advertisements promoting their brand presence in Sri Lanka in a major way? So that a visitor or an investor would know that this country has a thriving presence of global brands and a logistics industry? I have only seen one courier company as they have their own presence due to some special arrangement out of the protectionism laws that is prevalent in the country.

I wonder how many of the readers know that the nearly $ 500 billion economy of UAE west of Sri Lanka has 14% share from logistics contribution to the GDP and the free zone alone in Dubai has 20% of contribution to the GDP of the Emirate.

The Jebel Ali Free Zone (JAFZA) is a community and ecosystem where industries such as logistics, e-commerce, petrochemicals and 14 other industries thrive. JAFZA helps businesses in key industry sectors to flourish creating an annual trade value of over $ 104.2 billion with thousands of international operators. It is important to note that Dubai is not located on the main east west shipping lane either like Sri Lanka or Singapore! It's just the pragmatic leadership and environment that has attracted 56 global logistics headquarters to the country and transformed the location to one of the best places to do business in the world.

To the east of Sri Lanka, logistics have been a significant part of Singapore's economy consistently contributing to 7.5% -8% of GDP over the years. By 2015, there were more than 5,000 logistics companies employing more than 230,000 workers with almost all the global brands having headquartered operations. This sector remains to continue to be a pivotal infrastructure to the Singapore economy and Southeast Asia. Whereas Sri Lanka's contribution from international logistics was around 2.5% to GDP in 2015 when the Shippers' Academy Colombo did number crunching with very limited and transparent data. Today this number seemed to drop to around 2% contribution to the GDP and that too mainly from the privatised terminal operations and export import trade with little value addition on global supply chains although we tried to change the environment through commercial hub legal reforms in 2014. But that too has been ignored greatly by the institutions who are supposed to act and drive on it.
Port won't make us a global logistics hub
The port of Colombo has been the only successful story as a nation since the 1980s to be among the top 25 container ports in the world as a major container transshipment hub in South Asia. However, it has failed to become a landlord port after decades of promises whereas India just declared Mumbai port as its first landlord port. However, we have not maximised that potential in the Colombo port too due to stagnating policy and development projects postponed due to protectionism by governments to satisfy trade unions and political interest along with vested private sector interest time and again. In my view Colombo should have been handling a minimum 11-12 million TEU by now, whereas we are around 7.2 million TEU throughput now. 

The debacle of East Container Terminal (ECT) is the most recent reputational damaging policy decision that was taken. If ECT had been continued as a joint venture, by 2021 the terminal would have been fully operational with the modern cranes providing extra three berth capacity for largest ships of the world and Colombo would have attracted an extra one million TEUs in addition to the investment of $ 700 million to the economy. Now it is struggling as the debt of the nation has deprived any dollars to construct the full terminal and operate it and the estimates are it will be ready only towards 2025 probably with West Container Terminal by Adani Group will also be operated by then.
The message the country has given to global shipping giants is not the best, as capacity constraints in the port is showing flat growth or marginal growth compared to the regional post-COVID 2021 cargo output. This is evident when one looks at our two main catchment areas which are India's east coast and Bangladesh. The growth of volume output in India is around 20% and Bangladesh around 14%, but our growth where we depend on these markets has been just 4.5% which should have been close to 10%.
Which means the volumes from the catchment areas are moving into direct sailings and other hubs due to the delays in Sri Lankan policy at large. If one would dig deep they would understand that most top global shipping and logistics companies maintain Sri Lanka as a cost centre rather than a profit centre as their presence even as sub regional headquarters are not visible, but they are located in India which is 100% open to the sector with no protectionist strings attached by the government.

In many columns to the newspapers and media discussions I have extensively spoken about the ports of Galle, Hambantota and Trincomalee. Mostly we have extravagant events and policy statements that were never considered a national priority on these port development projects, countless number of ministers, secretaries and chairmen have sat on the chairs over the last two decades. Most have worked for political agendas not in the interest of the country or any outward looking strategy being implemented. Mostly statements are made to protect the domestic interest and keep a bogus national interest to protect a few in the business where some are actually taking the foreign exchange earned out of the country by using the loopholes of the system.
Get the priorities right
The number one priority today is to study the logistics business environment and the laws prevailing around it. No international investor is going to make Sri Lanka its hub unless it has the freedom to decide on its activities and create wealth that will lead into greater profitability. Starting from archived customs laws, land policies, port policies, ownership policies and underlined by the lack of trade and investment policy on the ports and logistics sector. Even the trade facilitation remains a talking point moving at a snail's pace. The only example of recent success was when a Japanese investment was allowed to come into the logistics industry by partnering and acquiring shares of a local company where the Sri Lankan company's brand became the top performer in the Colombo Stock Exchange recently and was ranked among the top air freight companies in the world. However, those were short lived policies.

The Sri Lankan President Ranil Wickremesinghe recently said that the prospects for logistics as a new vertical for development is among his priorities. I welcome this statement coming from the head of state. He does not have to re-invent the wheel. Under his premiership in 2017, National Export Strategy (NES) had a clear mandate to develop the logistics industry, to support trade development. The industry, together with the International Trade Centre (ITC) developed a full document on what and how to do the reforms to become a logistics hub and handed over the same to the cabinet of ministers in Sri Lanka in 2018. Nothing has happened after 2019 and the Export Development Board (EDB) has virtually abandoned its drive. It has become just another document gathering dust and just a library reference to a similar report done by USAID in 2007.
How to go about
The President should also understand that Sri Lanka's Logistics Performance Index (LPI) stands at 91 among 160 countries. If one looks at its criteria, and the recommendations of the NES we can start a new chapter. However, a dedicated division not falling under the Minister of Shipping should be established if we are serious about driving the reforms in logistics. In India, the Ministry of Commerce and Trade has a separate division for logistics and supply chain, and a new policy has been drafted for the sector. This is a cue the President can take in the next two months so that Sri Lanka can and should bring in international specialists to put through a framework of macro level policy changes recommended through the NES and the observations made by foreign clients when the LPI was developed. 

The most important of all would be getting the legal and the business environment on the right path that would be acceptable to international investors who are the real decision makers that can transform the location into a meaningful logistics hub, as domestic efforts have miserably failed for two decades due political interference and supporting the interest of few monopolies/oligopolies in Colombo.

This is probably the last opportunity to do actual reforms and do a nation building effort targeting logistics related investments which will attract regional and global supply chains to use our location as a meaningful transit hub for cargo, people and finances. It is unlikely the location is going to hold up for long as competition and technology will give greater opportunities and investors would not wait for Sri Lanka to come up with our plan and executions at our pace. Former Finance Minister and my one-time boss Ronnie Demel once said that pictures, videos, and stories are not going to convince investors, but we need to eliminate monopolies and ensure a workable environment for competition with bankable documents for capital inflows. Protectionism will never make Sri Lanka a hub, he said.

At this juncture we must remember late Minister Mangala Samaraweera as Finance Minister had the same vision and made budget proposals in 2017 to fully liberalise the sector, but it was sabotaged by the then members of the cabinet and the head of state.

CIMC Events will organise the Colombo International Maritime and Logistics Conference on 1 and 2 November 2022 to discuss all this and more as the regional's biggest conference which was established in 2015.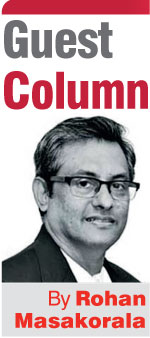 ---
(The writer is a graduate in economics and trained in supply chain management, currently the CEO of the Shippers' Academy Colombo and the founder of Shippers' Academy International (Australia).)
---