Supply Chain and Logistics Handled Strategically Will Give Solutions to Economic Crisis
28 November 2022

Views: 33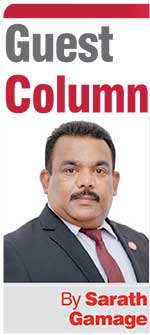 A supply chain is a network of organisations and processes wherein various enterprises such as suppliers, manufacturers, distributors and retailers collaborate along the entire value chain to acquire raw materials, to convert these raw materials into specified final products and to deliver these final products to customers. In fact, supply chain management has become the key driving factor in today's business and the economy.
Globalisation explored opportunities through the technological platform providing an exponential development and some of the countries have started capitalising the potential for their economic growth. Institutions are to bridge the knowledge gap between globalisation and localisation. Therefore, as an institution of providing total solution to the supply chain management related issues, the Institute of Supply and Material Management (ISMM) supports by providing resources through a platform for the nation.
Supply chain functions are scattered to a broader area of the business operations; hence, the varieties of opportunity are much more. Therefore, the business leaders are compelled to have their great attention on supply chain in relation to sustainable business development. Businesses always focus on sustainable development that reflects finally in the economic development of the country. Businesses are sought on operational excellence focusing on the two factors – cost leadership and differentiation as a competitive strategy. Innovative supply chain processes make a high impact on sustainable business within the highly competitive business environment which is influenced basically by the technological factors.
Green supply chain management, agile supply chain management, and digital supply chain management are some of the booming concepts that thrive in business success nowadays. Technology made an imperative revolution to supply chain management in the recent past and the digital business is one of the creations that everyone knows. Technological contribution influenced exponential growth in supply chain management creating new business concepts through innovative business models. Business sustainability is relying on the business model and how it is accepted by the customer. However, it is important in creating a customer centred business model based on responsible and ethical manners.
Supply chain management in life cycle perspective is explained in another term as the cradle to grave effect of sustainability in the process. A sustainable supply chain process consists of procurement, inventory, manufacturing, distribution, and reverse logistics as the main functions. The adaptation to strategic directives by organisations in supply chain management is another pillar of success in business performance. Envisioning the strategic directions and its incorporation to the corporation strategic plans commonly practiced by many large-scale organisations in their supply chain management process through knowledge update.
Supply chain institutes disseminate theoretical and practical knowledge exploiting the strategic path of supply chain for the business organisations. The knowledge shared by the institutions contribute immense service to the business society and that enables the business organisations to implement strategic direction in their supply chain management process in effect of economic revival.
(The writer is President – Institute of Supply and Materials Management.)