Sri Lanka Association of NVOCC Agents Holds 6th AGM; Renews Commitment to Strengthen Industry
21 February 2023

Views: 53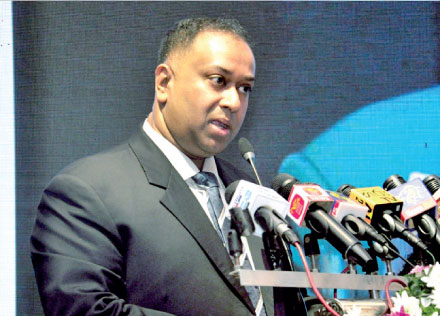 Chairman Harsha De Silva

From left: Vice Chairman Taarik Booso, Secretary Swabha Wickremasinghe, Chairman Harsha De Silva, Minister Nimal Siripala De Silva, and Ministry Secretary K.D.S. Ruwanchandra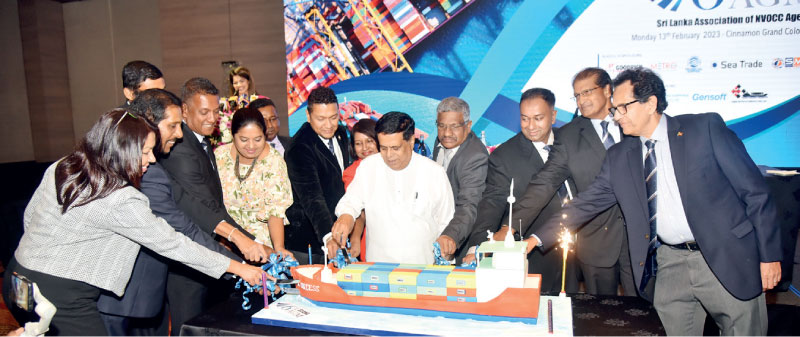 Celebrating 6th anniversary
---
The Sri Lanka Association of NVOCC Agents (SLANA) which was formed to promote and protect the interests of the licensed 'Non-Vessel Operating Container Carrier' (NVOCC) Agents in Sri Lanka, held its sixth Annual General Meeting on 13 February, at the Cinnamon Grand Colombo.

The Chief Guest on the occasion was Ports, Shipping and Aviation Minister Nimal Siripala De Silva and the Guest of Honour was Ministry Secretary K.D.S. Ruwanchandra.

The following Office Bearers were elected for the year 2022/23: Chairman: Harsha de Silva – Managing Director, McLarens Logistics Ltd.; Vice Chairman: Taarik Booso, Managing Director, Goodrich Lanka Ltd.; Secretary: Swabha Wickramasinghe, Director, Worldlink Shipping Colombo Ltd.; and Treasurer: Ananda Senanayake, Managing Director, Lanka Shipping & Logistics Ltd.

SLANA consists of 54 members who are Shipping Agents representing Non-Vessel Operating Container Carrier principals. NVOCC principals mainly use Feeder Shipping Lines to ship their containers in the short sea routes.

Some NVOCC principals who operate special container equipment such as ISO Tanks, Flat Racks and Open Tops offer worldwide services using slots on Main Line vessels as well.

It is estimated that there are around 60-70 NVOCC Lines actively involved in containerised shipping services to and from the Port of Colombo. The NVOCC agency business brings in US Dollar earnings to the country through port payments and agency income.

As per available statistics, approximately 24% of the import and export cargo coming into and going out of Colombo, is handled by NVOCC Lines.

NVOCC Lines carry a large part of the import cargo from Indian ports and also have a strong presence in Sri Lanka's export trade to the Middle East Gulf. NVOCC Lines have been working very closely with the Tea Trade for many years to carry 'Ceylon Tea' to Middle East and Upper Gulf destinations some of which are not served by main line operators, due to war risk and sanctions.

A specialised area of NVOCC operations is ISO Tank containers, which predominantly carry chemical and food grade liquid cargo as imports to Colombo.

Tank containers are known worldwide to be an extremely safe method of transporting liquid cargo by land and sea. Currently ISO Tank containers are globally operated only by NVOCC Lines.

Sri Lanka also has seen growing exports of virgin coconut oil in food grade ISO Tanks to various worldwide destinations.

Going back to the beginning of the year 2022, NVOCC agents started the year by facing a challenge, as Feeder Shipping Lines announced that they will no longer allow Sri Lankan NVOCC agents to use their port accounts to make terminal handling charges and other port related payments and giving a very short deadline for NVOCC agents to obtain their own port terminal payment facilities.

However, this was not possible in a short period of time, as it involved changing a practice followed for over 25 years at the Port of Colombo. SLANA is thankful to the Ministry of Ports & Shipping for their timely intervention in forming a Joint Committee of all stakeholders to discuss and come up with an amicable solution.

Whilst SLANA has still not been able to come to an ultimate conclusion on this matter which involves the establishing of a separate licensing category for NVOCC agents by the Merchant Shipping Secretariat and thereafter agents applying for direct payment facilities with the respective terminals, SLANA is confident that the final solution is in sight.

SLANA requested all Colombo port terminals which are gateways into Sri Lanka to facilitate its members to have the required payment facilities by adopting similar policies being practiced at regional hub ports such as Dubai and Singapore.

Further SLANA also requested feeder shipping line agents and owners' representatives in Colombo to keep their principals informed of the positive changes in the trade practices such as US$ currency payments and other new processes now being followed by NVOCC agents, and in this regard to facilitate both big and small NVOCC Lines to operate into the Port of Colombo.

As all stakeholders are aware NVOCC Lines bring in price and service stability to Sri Lankan importers and exporters.

SLANA said that some NVOCC principals have invested in their own agency offices in Sri Lanka and some even gone on to invest in related services such as inland container depots and transportation. Sri Lankan NVOCC agents have evolved into principal operations and have established their own NVOCC Lines and subsidiary agency offices overseas as well and this is what SLANA would like to encourage and therefore, would like to request the Shipping Ministry to further study the laws and regulations pertaining to container shipping sector in order to encourage more lines to provide services in Colombo and also, have more Sri Lankan based NVOCC operators in the future.

For further development of NVOCC activities in Colombo, it is essential to allow the recovery of terminal handling charges as per the practice in other worldwide and regional hub ports. As NVOCC agents, we are responsible for our principals' container assets while they are within our country and we encounter many hurdles when carrying out agency functions such as recovery of abandoned and Customs detained containers. In order to overcome these, streamlining of the current processes and changes in the laws are required

Last year SLANA partnered with the Institute of Chartered of Shipbrokers Sri Lanka Branch for the second consecutive year to award the best Customer Service by NVOCC agents. SLANA members also had the opportunity to receive the National Logistics awards which was conducted by Sri Lanka Logistics and Freight Forwarders Association (SLFFA).

SLANA carried out its CSR activity by donating valuable medicines to the Lady Ridgeway Hospital last year. SLANA also entered into an agreement with YoungShip to enable our younger workforce to benefit from the programs and training conducted by YoungShip Sri Lanka.

SLANA also reaffirmed its commitment to uplift the work standards of the NVOCC agents in Sri Lanka and work towards strengthening this industry.
– Pix by Sameera Wijesinghe