Work on ECT Phase 2 Begins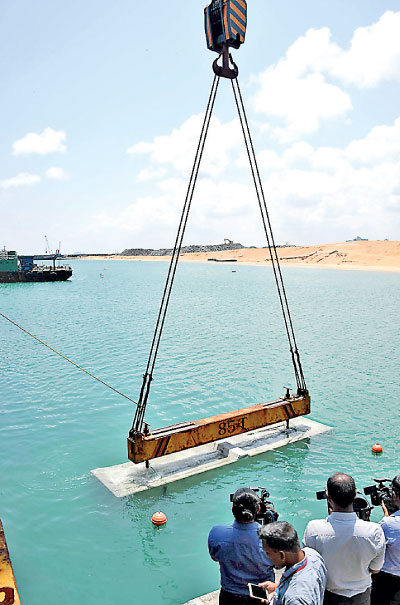 Construction of Phase II of the East Container Terminal (ECT) of Sri Lanka Ports Authority (SLPA) commenced last week at the Port of Colombo (POC) with the initiative of Ports, Shipping and Aviation Minister Nimal Siripala de Silva.

Phase I of the ECT has already completed the construction of 600 m of the terminal, and Phase II currently under construction, will add an additional 720 m, resulting in a total terminal length of 1,320 m. The draft of the initial 700 m section will be 18 m, while the remaining portion will have a draft of 20 m. Upon completion, the terminal will occupy a total land area of 57 hectares and will feature a fully automated operations system. The project has a total investment value of $ 230 million and will be funded through SLPA's capital investment. Once completed, the terminal will add a capacity of 3.0 million TEUs. Today, the inaugural Concrete Block for Quay Wall was successfully placed, signifying the commencement of Phase II of the terminal construction.

Expressing views at the occasion, the Minister said that the construction of the underwater reef dam had commenced, marking the initiation of Phase II construction for the terminal. He mentioned that the terminal is expected to be operational before the end of this year upon completion.

The Minister also highlighted the significance of preserving the terminal under SLPA and the Government, acknowledging the unwavering support of all trade unions involved.

"This is a collective accomplishment, made possible through the collaborative efforts of the people of our country and the dedicated members of the trade unions," he affirmed.

Expressing further views the Minister had this to say: "As the Minister of Ports, Shipping, and Aviation, I am delighted to offer my full support and cooperation in the development of this deep draft terminal. This terminal has garnered immense attention from commercial lines, making it the most sought-after facility in the port. Moreover, it holds tremendous potential for generating the highest revenue at the Port of Colombo.

By enhancing the operational efficiency of this terminal, the Sri Lanka Ports Authority will significantly bolster its income generation. Therefore, it is crucial to ensure uninterrupted operations and foster healthy competition with other ports."

State Minister of Ports, Shipping and Aviation Premalal Jayasekara, SLPA Chairman Keith D. Bernard and several officials of both the Ministry and SLPA also joined the occasion. 
(Source: Daily Mirror)