Talaimannar Pier to be Rebuilt After 37 Years at Cost of Rs. 1.8 b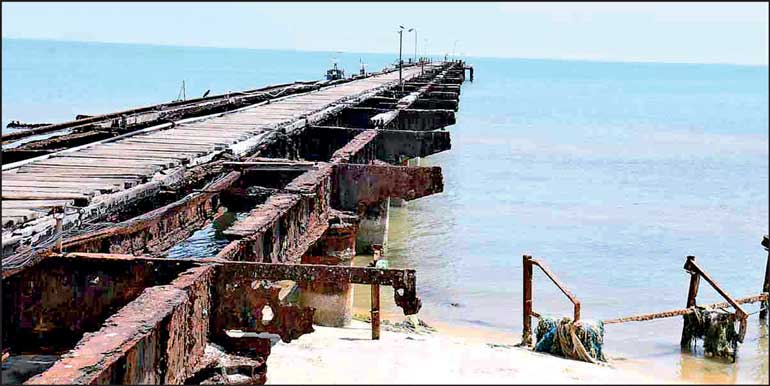 The Ministry of Ports, Shipping, and Aviation is to reconstruct the Talaimannar Pier to facilitate passenger vessels from Rameswaram, India after 37 years.
The pier was destroyed and had been abandoned to deteriorate during the conflict era in the north.
Accordingly, under the instructions of Ports, Shipping, and Aviation Minister Nimal Siripala de Silva, the Sri Lanka Ports Authority (SLPA) has been vested with the re-construction of the pier. The estimated cost of the investment is Rs. 1,800 million.
Parallel to the re-construction of the pier, about 10 acres of Government-owned land bordering the port will be acquired for port infrastructure development activities. Under these new developments, a modern passenger terminal and warehouse facilities will be constructed. It has also been decided to call for RFPs for these investments to be carried out under PPP.
In the past, a passenger ferry service existed between Talaimannar and Danushukodi. However, the Dhanuskodi port was completely destroyed due to cyclones.
At present, India has completed developments at the Rameswaram Port, and the Indian government has declared clearance to commence a passenger ferry service between Mannar and Rameswaram.
To make initial plans for the project and to carry out necessary inspections, Minister de Silva made a special visit to the port on 4 August. After the inspection visit, the Minister also attended a special discussion held to discuss and resolve issues pertaining to the project.
Speaking at the event, the Minister said that the reconstructions will reawaken the strong correlation between the two neighbouring nations.
The Minister emphasised that the commencement of the ferry service between Talaimannar and Rameswaram will also facilitate Sri Lankan pilgrims to India by providing low-cost travel facilities. He also said that these measures will facilitate the exchange of goods between the two countries and will be a commendable opportunity to popularise the products of the people of northern Sri Lanka in India.
Several officials, including SLPA Chairman Keith Bernard, Vice Chairman Gayan Algewattege, and the Sri Lanka Navy, also attended the event.
(Source: Daily Mirror)